This is a short one page newsletter to post announcements in my web site and to email to those who have indicated to me that they would like to be on my mailing list. They will probably not be published on any type of a regular schedule, but will come out whenever I feel that I have a message that I want to get out or when I feel I have enough to say to fill this page!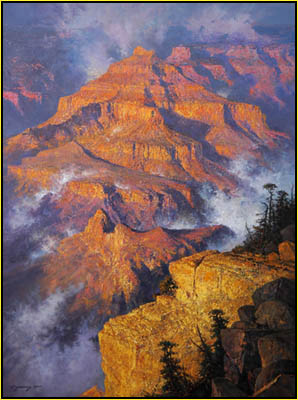 Hello Everyone!
I just returned from the opening of the inaugural 'Quest for the West' exhibit and sale at the Eiteljorg Museum in Indianapolis, IN. There were approximately 40 painters and 10 sculptors invited to participate. The beautiful museum holds an impressive collection of art from the Taos masters such as Couse, Sharp and Berninghouse and other great artists from the period. Another wing holds one of the largest collections of Native American art that you can find east of the Mississippi River.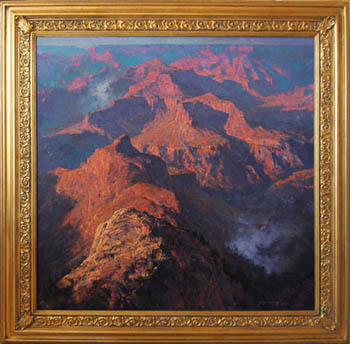 The museum produced a beautiful catalog of the show in soft and hard bound editions. The event was deemed a success in all respects. It was well attended by locals and those that flew in from around the country. At the end of the evening it was announced that sales for the night had exceeded $1,000,000. To see a complete list of the artists and the paintings exhibited in the show click HERE.
The painting on the left 'Sunset on Isis', was my catalog piece. It is a 48"x 36" oil painting of Isis Temple located in the Grand Canyon.
To the right is another painting of the Grand Canyon titled, 'Patterns of Light'. This is a 36"x 36" oil on canvas. This painting was a personal favorite of mine and I couldn't resist having it in the show, hence two grand canyon pieces! Below, my third entry in the exhibition, is a scene from a ranch near Cody, WY. This is a 24"x 48" canvas titled, 'Autumn Morning'.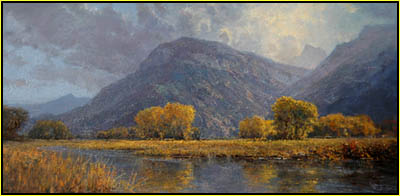 Now it is time to look ahead to a very busy fall! It begins with my judging of awards for the Western Regional Oil Painters of America (OPA) show in Calistoga, CA opening October 7, 2006. The next day I have to be in Laguna Beach, CA for the beginning of the Laguna Plein Air Invitational. I think this is the seventh year for the show and for my participation as well. The event ends with the gala at the Laguna Art Museum on October 14th.
As soon as the Laguna event ends I have to hurry back to Sedona to teach a plein air workshop. It is always a great time of year to be outside painting in northern Arizona so I look forward to this class! After a much needed weekend's rest (I hope) the Sedona Plein Air Festival begins. It wraps up a week of painting with the gala show and sale of newly created works on October 28 - 29.
Whew, I am going to need some definite 'down time' after that month departs!
Thanks, and good painting!
Scott