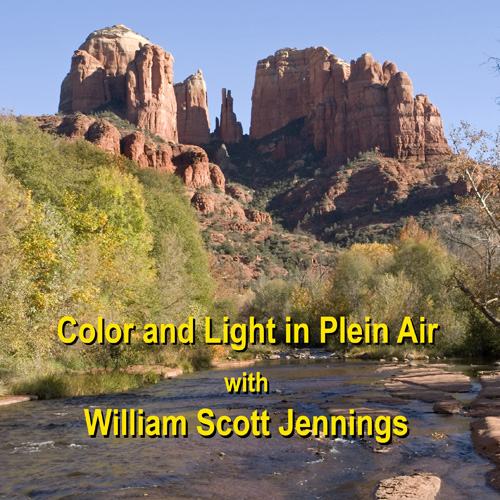 A GREAT GIFT FOR THE ARTIST ON YOUR SHOPPING LIST!
This new plein air DVD is a great addition to any artist's collection!
Jennings has been teaching plein air workshops for 12 years and this
DVD contains volumns of information that will teach you Scott's approach to
painting outdoors. Follow along as he produces a complete plein air
painting while describing his thought processes and techniques throughout.
This two hour DVD contains Jennings' complete process including materials,
palette and application techniques. In addition to the 1 1/2 hour taping of his
plein air demonstration, there is a comprehensive slide show of Jennings'
large studio paintings shot in progression. This special section allows you to
see the stages of Scott's grand scale studio works in 5-7 stages as the paintings
progress, giving you an understanding of how these works evolve!
This new DVD is on sale for the special introductory price
of only $50. That is a savings of $19 off of the retail price!
To order your copy, send a check or money order for $50
plus $5.00 shipping and handling for delivery within the USA to:
Wm. Scott Jennings
773 Sky Trail Rd.
Boulder, CO 80302
For Most International Orders it will be $15 US for Priortiy Mail Shipping.
Please email me at: scott@wsjennings.com for instructions to purchase the video.
FOR FASTER SERVICE USE YOUR CREDIT CARD